We are entering our 28th year of setting time aside with the Lord – time for opening our hearts to Him and listening for His counsel to us. Whether you've come often, or never before, join us on these special Saturday mornings to be refreshed in the quiet of His presence and in fellowship and prayer with others. For additional information please see our 2022-23 ATN Ministry Brochure
The Garden of the Heart  —  Rooted and Grounded in Love
This year of Second Saturday is about recognizing roots of pain and/or the limitations we live with.  We will share some helpful ways of praying for healing in our personal prayer times.  We also pray that He will expand our faith in Jesus, our Healer, and  deepen our understanding of what He purchased for us out of His great love.  Accepting how much we are loved by Him encourages us to seek Him more earnestly!  Think about what He has provided for us.
Redemption  ❖    Our healing often involves the Cross—what He purchased for us,  and the power of forgiveness and cleansing of our heart.
Relationship  ❖    He alone knows our deepest needs. He calls us by name, and loves and shepherds us in every season of our lives, past and present.
Restoration   ❖    Equipped with His word, the power of His name, His Spirit, and His priceless love for us, we're set free from the past—free to become "new creatures" in Christ.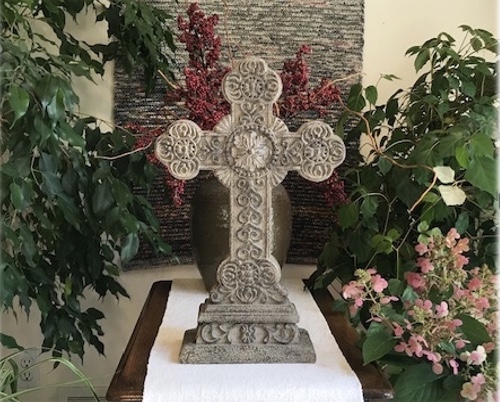 OCTOBER 15         CHOOSING TO PURSUE HIS HEALING PATHS
NOVEMBER 12     NEW PERSPECTIVE: DEFINED BY FATHER'S LOVE 
DECEMBER 10     NEW PATTERNS: CHANGING NEGATIVE MESSAGES
JANUARY 14         IMAGE OF GOD: ROOTED IN LOVE
FEBRUARY 11      AFFIRMATION: SEEING MYSELF THROUGH HIS EYES OF LOVE
MARCH 11             RETREAT: GROWING OUR CAPACITY FOR INTIMACY WITH GOD
APRIL 15                CHOOSING TO DEEPEN: KNOWING HIS HEART, SECURE IN HIS LOVE
MAY 13                   STORIES OF HIS LOVE: WHAT THE LORD HAS DONE IN US
"For this reason I kneel before the Father, from whom every family in heaven and on earth derives its name. I pray that out of his glorious riches he may strengthen you with power through his Spirit in your inner being, so that Christ may dwell in your hearts through faith. And I pray that you, being rooted and established in love, may have power, together with all the Lord's holy people, to grasp how wide and long and high and deep is the love of Christ, and to know this love that surpasses knowledge—that you may be filled to the measure of all the fullness of God." Ephesians 3:14-19
 DETAILS  
Location  |  Elmwood Church, 3615 Chelmsford Rd., St. Anthony Village 
For further information, please see contact information below.                                CALENDAR:   Click on Calendar for Schedule
  CONTACT INFO:  E-mail: atn@allthingsnewprayer.org   •   Phone:  651-497-1764
  MAILING ADDRESS:   All Things New Prayer Ministry  2561 Fisk Street, Roseville, MN  55113
  2022-23 LOCATION:   Second Saturday will take place at Elmwood Church Map 
   DONATE:   We are now an operating project of the New Horizons Foundation