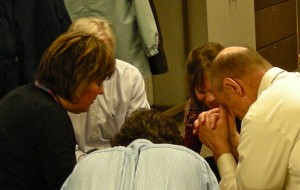 ---
LISTENING PRAYER
When we take time away, even part of a day, and allow the questions and concerns on our hearts to surface in God's presence, he will speak to us. We find there is time for reflection and the dialogue with him that transforms our lives.
Second Saturdays   |   Making room in our lives for time with the Lord                   
A gateway to God's presence—a place to develop a listening heart through teaching, personal reflection and prayer, and sharing in prayer with others  
HEALING PRAYER
Healing Prayer Clinics  |  Behold, I make all things new.  Revelation 21:5
New life in Christ touches every area of our lives and personal history.  Prayer clinics are an opportunity to share our concerns with others trained to come alongside us in prayer.  More information
Healing Prayer Retreats  |  He restores my soul.   Psalm 23:3a
Retreats are centered around specific healing topics such as our image of God, messages that shape our identity, damage from mother or father wounds, and self-acceptance.  The Lord meets each person through the varied activities of the day, which includes individual prayer ministry. 
2016 Project:  Light the Candle
To expand the reach of our healing retreats and clinic ministry, we are transitioning toward more off-site ministry. On a small scale, we are preparing to minister at other churches or groups, combining teaching and ministry according to the need.
PRAYER TRAINING
We draw on teachings from several ministry sources including the practice of prayer that is foundational to All Things New.  We are currently revising our teaching materials and plan to offer training soon.