2018-19 Second Saturday Theme  |  BEYOND ALL MEASURE
Join us for a year of mentorship through the epistles of St. Paul. The letters of Paul call us to see beyond our human limits to a faith measured by our limitless God. These letters flow from a man captured by God's love and grace—testimony to His great and transforming power. Paul declares that we are all letters from Christ, written by the Spirit of the living God … on tablets of human hearts. (II Corinthians 3:3) Paul's life will be our template this year. We will ask the Lord, the One who does immeasurably more than we could ask or imagine and who knows us completely, to write on our hearts the living messages we need in this season of our lives.

For additional information please see our 2018-2019 ATN Ministry Brochure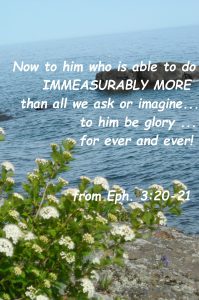 OCTOBER 13          MAKING ROOM FOR CHRIST'S FULLNESS
NOVEMBER 10       LIVING LETTERS • EVER INCREASING GLORY
DECEMBER 8         BEARING THE TREASURE BY HIS GRACE
JANUARY 12          THE PRAYERS OF A DEVOTED HEART
FEBRUARY 9         LOVE WITHOUT BOUNDARIES
MARCH 9               THE MIGHTY MINISTRY OF THE HOLY SPIRIT
APRIL 13                WHERE GRACE ABOUNDS
MAY 11                    MORE THAN WE ASK OR IMAGINE
DETAILS  
Location  |  Elmwood Evangelical Free Church, 3615 Chelmsford Rd., St. Anthony Village       
For further information, please see contact information below.                                                                 
---
  CALENDAR:   Click on Calendar for Schedule
  CONTACT INFO:  E-mail: atn@allthingsnewprayer.org   •   Phone:  651-497-1764
  MAILING ADDRESS:   All Things New Prayer Ministry  2561 Fisk Street, Roseville, MN  55113
   2018-19 LOCATION:   Second Saturday will take place at Elmwood Evangelical Free Church Map
   DONATE:   We are now an operating project of the New Horizons Foundation