In the early '90's, several women began gathering weekly to pray for family and personal concerns.  We realized right away how thirsty we were for something more in our prayer lives. We found far more than expected as we learned to listen for God's voice–to really wait to hear from Him instead of only speaking to Him. Prayer became an adventure. We grew to trust His leading and the heart of love behind it.
From small beginnings we became part of a ministry for women in 1995.  In 2000 we offered our first "He Restores My Soul" retreat and have continued to offer retreats and clinics for inner healing.  In 2007, men joined us and continue to be a vital part of our community.
Finding FAR MORE  |  From the start, God set before us a path of discovery.  We invited the Holy Spirit to teach us and began a journey that changed us in fundamental ways.
Known  ~  Our knowledge of God moved from head to heart. We gained insights and direction about our lives that greatly strengthened our sense of being known by God.
Connected  ~  In praying for one another, God's wisdom and healing reached deeply into buried needs while His love poured through those who prayed for us.
Empowered  ~  The gifts and work of the Holy Spirit became vital resources for prayer and ministry (I Corinthians 12).  We saw more answered prayer!
Beloved  ~  The breadth, length, height, and depth of God's love, surpassing our knowledge, became increasingly real in our experience (Ephesians 3:17-19).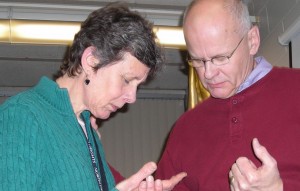 From 1995 to 2015, God has continued to draw thirsty believers together—men and women, young and old, into what has become All Things New Prayer Ministry.  This ministry was birthed at North Heights Lutheran Church.  Beginning in 2015, with many who serve in All Things New coming from other congregations, we have become an independent ministry, anticipating new ways to serve the Body of Christ as we move forward.  As we enter 2016, we come full circle with a vision to begin planting and nurturing  small listening prayer groups in new places.