We are entering our 29th year of setting time aside with the Lord – time for opening our hearts to Him and listening for His counsel to us. Whether you've come often, or never before, join us on these special Saturday mornings to be refreshed in the quiet of His presence and in fellowship and prayer with others. 
My Soul Thirsts for You
This year of Second Saturday is about recognizing roots of pain and/or the limitations we live with.  We will share some helpful ways of praying for healing in our personal prayer times.  We also pray that He will expand our faith in Jesus, our Healer, and  deepen our understanding of what He purchased for us out of His great love.  Accepting how much we are loved by Him encourages us to seek Him more earnestly!  Think about what He has provided for us.
Clean Water  ❖   We will ask Him to show us if our soul's "water" is cloudy, in need of filtering of thoughts, memories, attitudes—areas of our history that call for the Lord's cleansing, that our thirst may be for him.
Met by our Lord  ❖   He will meet us as he met the woman at the well. He knows our story. We can choose to invite him to show us where we've sought or settled for substitutes for his living water. As at the wedding in Cana, where water was turned into very good wine, Jesus will help us thirst for and experience the best he has for us!
Restored to the Original   ❖   As we pray and listen for his voice, the Lord will speak deeply to each of us – to the place of our deep thirst. As we encounter him in our personal times of prayer we will understand more certainly that he loves us. We will come to understand that he desires to restore us, to give us deep peace—our thirst quenched through our relationship with him.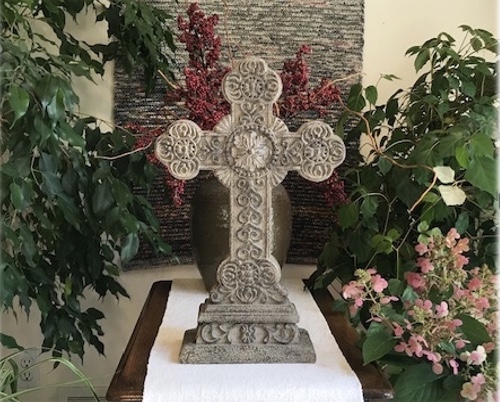 OCTOBER 14         MY SOUL THIRSTS FOR YOU
NOVEMBER 11      WOMAN AT THE WELL 
DECEMBER 9        UNBLOCKING THE FLOW
JANUARY 13         PREPARING FOR THE YEAR OF THE LORD'S FAVOR (RETREAT)
FEBRUARY 10      KNOWN AND BELOVED
MARCH 9               OUR HEARTS SPRINKLED CLEAN
APRIL 13                FRESHLY EQUIPPED
MAY 11                   OFFERING A CUP OF COLD WATER
"As the deer pants for streams of water, so my soul pants for you, my God.
My soul thirsts for God, for the living God. When can I go and meet with God?" Psalm 42:1-2
 DETAILS  
Location  |  Elmwood Church, 3615 Chelmsford Rd., St. Anthony Village 
For further information, please see contact information below.                                CALENDAR:   Click on Calendar for Schedule
  CONTACT INFO:  E-mail: atn@allthingsnewprayer.org   •   Phone:  651-497-1764
  MAILING ADDRESS:   All Things New Prayer Ministry  2561 Fisk Street, Roseville, MN  55113
  2023-24 LOCATION:   Second Saturday will take place at Elmwood Church Map 
   DONATE:   We are now an operating project of the New Horizons Foundation