Give ear and come to me; hear me, that your soul may live.    Isaiah 55:3a 
---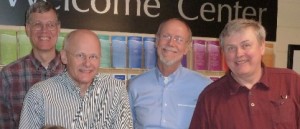 COMMUNITY
All Things New is a community of 30+ men and women who are passionate about God working in our lives to bring us into the fullness of who He created us to be. God's word is the heart and truth out of which we minister. We meet monthly to maintain our community through ongoing training and prayer for one another.
---
LISTENING PRAYER
We are trained in listening prayer – a two-way dialogue where we hear from God as well as talk to God. Following the Lord well comes from learning to listen well. To know the Lord, we must make time in our prayer lives for the Lord to reveal Himself to us.   To be known by Him is a gradual unfolding as we learn to trust Him at heart level. What we have gained in the process is passed on as we train others in listening prayer and offer teachings and testimonies, shaped by what we have heard from the Lord through His word and prayer.
---
HEALING PRAYER
We are also trained in healing prayer, drawing from a variety of teaching ministries.  Our foundational principle, taught through Francis and Judith MacNutt*, remains at the center:  listen, love, and pray.  The healing topics shared at our retreats include psychological aspects that agree with biblical truth, but we are not therapists or counselors.  We invite those we pray for into God's healing presence, alert to His leading as we listen to the stories and requests of those seeking prayer.
* Christian Healing Ministries, Jacksonville, FL,